Slip and falls can result in serious injury. Prevention of such accidents is very easy with care, attention and by using easy to apply anti slip and non slip solutions.
Case Study:

Kitchen area tiling were already slippery

With only a little water & grease friction is close to non existence.

One worker had an uncontrollable slip and hit her head on floor.

Rushed to hospital where she drifted in & out of consciousness.

Suffered seizures

Spent lengthy period in the hospital's dependency unit.

Other slips had also occurred before but was not remedied.

As a result, employer ordered to pay over 36,000 pounds including prosecution fees.
Extract from Health and Safety Executive (http://www.hse.gov.uk)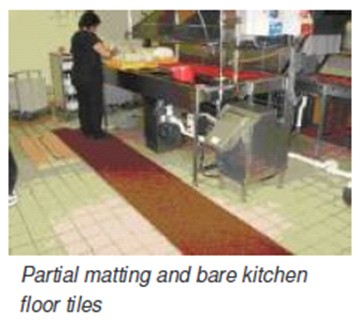 The more common industrial regulations include :
National Floor Safety Institute and ANSI
ANSI/NFSI B101 Safety Requirements for Slip, Trip and Fall Prevention and Testing method for measuring wet SCOF of common Hard surface materials.
AS/NZ 4586:1999 , Slip resistance classifications of new pedestrians surface materials.
WorkPlace (health, safety and welfare) Regulations 1992 (UK)
States that " The surface should not have holes or be uneven or slippery, and should be kept free of obstructions and from any article or substance which may cause a person to slip, trip and fall. "